The best natural 10 yoga Poses/Asanas for Extreme Weight Loss. The one's fighting with obesity, excess weight, large belly fat have the huge availability of these yoga poses. Doing these 10 Poses/Asanas for Extreme Weight Loss will make you fit more than you can ever think.
1. Warrior (Virabhadrasana)
Procedure
Stand comfortably straight with your legs hip-distance apart and arms relaxing on your sides.
Now, moving on, spread your legs wide-apart.
Turn your left feet out to the left side of the mat.
The other feet will turn inward to make a 45 degree angle.
Twist your body to the left side completely.
Go forward on your left knee making a 90 degree angle making sure that your knee doesn't cross over the toe.
Let the other leg stretch properly.
Now go into a Namaste position, and taking your arms up above your head, look up, arch your back a bit and stretch.
Hold the stretch in this position for 10 seconds and repeat on the other side.
2. Cobra Pose (Bhujangasana)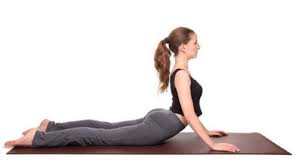 Procedure
Slowly lie down on your belly.
Place your palms under your shoulders and the feet should be flat on the floor.
Press the tops of your feet down to the ground, press your palms into the floor evenly pushing your shoulders slightly backwards.
Lift stretch your upper torso until you are fully comfortable.
Even your are in the highest position, do not that you don't straighten your elbows.
Even if you are really high enough, look upwards. Otherwise just look forward.
Then try and hold this position for 6-12 seconds.
And then slowly out your head down.
To release this position, sit back onto your heels.
Forehead should be on floor and hands can be stretched in front or back on the floor.
If your head is not reaching to the ground, then place your forehead to your palms so that to make sure you are relaxed.
3. Dancer Pose (Natarajasana)
Procedure
Stand straight on the ground.
Come on to your right feet, pointing left toes to the ground.
Now, bend your left leg from knee and hold it with your left hand.
Wrap all your fingers around your feet.
Move your right hand stretching it forward until it is parallel to the ground.
Keep your head straight and gaze right on your front fingers.
Start moving your upper torso forward.
Elegantly, point both the hips down to the ground.
Now kick back and bring your left leg as high as possible.
Hold this pose for 30 seconds or more.
To release, reverse the process.
Repeat the same for the other side.
4. Superman Pose (Viparita Shalabhasana)
Procedure
Lie on the ground slowly with your chest facing the ground and toes flat on the ground.
Place your hands on either side of the body with palms flat on the floor.
Now pull yourself back by pulling your hands back.
Raise your thighs up off the mat as much as possible.
Hold the stretch for 6-8 breaths and lower your body down.
5. Eagle Pose (Garudasana)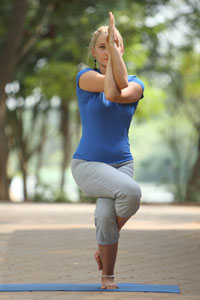 Procedure
Stand straight on the yoga mat.
Take you right thigh and place it on your left thigh hitting your toe down to the floor.
Take your left arm, bend it and take your right arm and put it along with your left arm.
Your arms will look vines.
Once you are in this position, lift your left leg up and wrap around your left leg.
Bend your left leg a bit to comfortably balance your body.
Be in this position for 3-6 breaths.
Repeat the same for the other side.
6. Plank (Kumbhakasana)
Procedure
Be in a downward dog position.
Slowly lower your hips down until your shoulder, hips and legs are in one slanting line.
If really needed , push your toes little bit back and pose yourself on your toes.
Your toes and hands are apart and fingers should be wide open.
Inhale and exhale deeply.
Hold the stretch in this position for 4-6 breaths.
7. Camel Pose (Ustrasana)
Procedure
Kneel on the floor comfortably with knees hip width and thighs perpendicular to the floor.
Place your hands on the back of your pelvis with the fingers pointing down and wide.
Now focus on the upper back, lift the hand and keep pressing into the feet, into the knees.
Keep thinking about actions in the legs.
Lift up more and more until the maximum stretch.
Then, if you wanna come down more , bring your hands down and touch your ankle.
Keep your face up and look at the ceiling.
Now, if this is not possible for you, then you could tuck your knees underneath and instead of reaching for the heels flattered, you could do the same thing.
At that point, reaching for the heels will be a little bit easier for you.
Remain in this pose from 30 seconds to any minute keeping the body fully stretched.
Come up slowly from this position.
Relax while lying down on the mat comfortably.
8. Side Plank Hold (Vasistha)
Procedure
Get into the table top pose (fingers wide open).
From that pose, move to right hand side making your left foot straight and set the other foot in front.
Now, just push the weight into the front foot.
Bring your right hand vertical to the floor and fingers pointing to the sky.
Now once you are balanced, lift the front foot and set it on top of the other foot.
Look at the sky.
Hold this position for 3-6 breaths.
Repeat the same for the other side.
9. Downward Dog (Adho Mukha Svanasana)
Procedure
Lie down on the mat with your face facing the ground.
Hands straight on either side of the body with palms facing the ceiling.
Now, place your palms near your chest.
Press your palms and come on all the fours.
Let your hands and legs be resting where they are.
Tuck your toes under and lift your hips towards the ceiling.
Straight your knees and lift the hips to a higher point.
Make sure your heels are down on the floor and your fingers are wide open.
Both your legs should be straight and apart, just like your hands.
Breathe deeply, smoothly and feel the breath.
Hold for 5-10 breaths.
And then, lower your knees to the floor to release the pose comfortably.
And then relax.
10. Bow Pose(Dhanurasana)
Procedure
Lie down on the floor facing your stomach to the floor with hands along your side and stretch your legs out.
Notice that your palms are facing up.
Look in the front and rest your head on chin.
Now bend your knees and grab your ankles with your hands.
Move your face towards the sky while bringing your legs upwards.
While doing this, your thighs will come off the floor.
Hold it for 4-6 breaths.
Tags:
Weight Loss